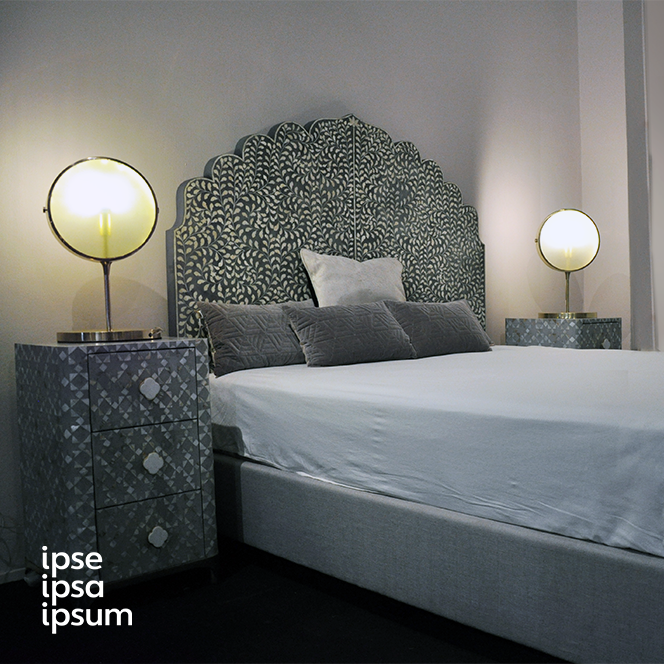 12 Unique Bone Inlay Furniture Designs that Elevates your Home
Bone Inlay furniture creates a striking combination of color, design, and one-of-a-kind texture to any space in your home. These traditional handicraft pieces often come in the form a table or cabinet, but actually comes in so many other forms. Check out this list of extraordinary bone inlay furniture ideas to see all the amazing ways you can add beautiful bone inlay to your home.
12 Modern takes on Bone Inlay Furniture
1. Armenian Round Side Table
Using our unique Peranakan inspired Inlay design, even a modest side table brings rich colour to your living spaces. Available in 3 bone inlay colours and metal finishings. 
2. Peranakan Swivel Floor Mirror
This floor mirror features a full body length of our Peranakan inspired inlay. Flip for the mirror to check out your whole body, and flip back to the gorgeous inlay to brighten up any room. 
3. Biophilia SideBoard
Impress your guests by placing this lush green centrepiece in your foyer or dining room to invite them in. A unique dyeing process is used for these bone inlay pieces to get it's deep green hue. 
4. Duxton Round Dining Table
One of the more traditional table designs. A fundamental piece that completes my he dining room for many families. This piece comes in 4 floral bone inlay designs. 

5. Bamboo bone TV Console
This console takes an unconventional twist on inlay styles. Bone pieces are shaped into bamboo internodes, topped off with woven rattan, and finished with golden brass edges. Tropical, yet Refined.
6. Joo Chiat Headboard
Brighten up your bedroom with this striking Joo Chiat inlay pattern, a wonderful Peranakan inspired colour palette. The size of this headboard can be customized for your bed size.
7. Nymeria Coffee Table
An absolutely stunning lattice of bone inlay pieces but with a vibrant twist. This piece comes in many different colours, allowing you to combine a classic design with a modern flair to your home. 
8. Peranakan Chest of Drawers
Coming in multi-coloured or black and white styles, this furniture piece is a more traditional take on bonelay furniture. Our intricate Inlay design features birds, flowers and plant species unique to the Straits.
9. Stellar Dining Table
Did you know that this furniture piece was used on Crazy Rich Asians? Now you get the chance to own an actual piece of posh luxury from Astrid Leong's apartment. Choose between multiple Inlay patterns, Marble, and more.
10. Elizabeth Vanity Table
Another wonderful Mother of Pearl inlay piece with a more romantic flair. An elegant storage solution in a powder room or living space. Comes in both White and Pink Inlay designs. 
11. Sonic Console
An absolute show-stopper mother of pearl console that is bound to turn heads. This artistic piece is loud, yet timeless. A great addition for those who would like a front-and-centre star in their home decor.
12. Duxton Sideboard
This sideboard features sophisticated fish-scale Inlay design that comes in multiple colours. It has grey lined suede fabric and push-pull doors, making it as luxurious and functional as it looks.
Final Thoughts
Bone inlay furniture is often seen as traditional and rustic. But with the right vision, it can also be the sophisticated, modern piece that compliments present-day needs for contemporary design. It's the perfect marriage between culture, craftsmanship, and aesthetics for the modern living space.
Inspired, but don't see a piece that you're looking for? Get in touch with us. We'll help work on a piece that will realize your artistic vision for your dream home design.