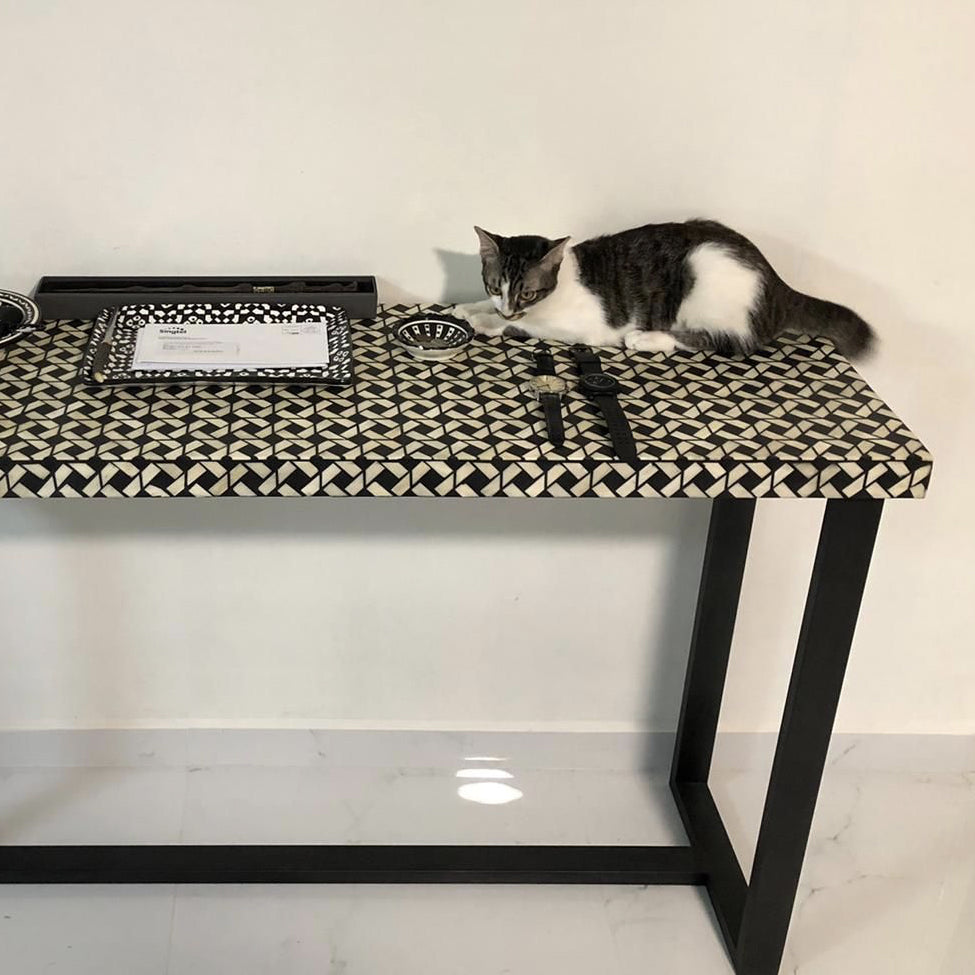 11 inspirational White and Black furniture ideas
11 inspirational White and Black furniture ideas
It's common to either go all black, or all white, when it comes to furniture pieces. However, black and white furniture patterns make very underrated furniture pieces. They can add character to a plain interior, or compliment an already colorful home. Beyond the simple stripes, dots, and squares, there's a whole world of white and black furniture designs that are tastefully crafted. Below are some of these white and black furniture pieces to inspire the next addition to your living space.
Note: Many of our pieces are handmade, and fully customisable. So even though you don't see them on our store right now, you can order the same, or similar furniture product.
Stellar Indicus Black Bone Inlay Console Table
One of our signature bone inlay furniture lines: our Stellar console and dining table pieces. The Indicus bone inlay provides an organic texture that naturally adds to the character of this beautiful piece. The blue version of this piece was also featured in the Crazy Rich Asians movie.
Studio 54 Black and White Elliptical Settee
This is one of the Studio 54 Settee pieces that have been customised with a striking black and white cowhide. Made with one of our luxurious leather offerings, the leather is sustainably sourced and hand-stitched to create the smooth hide feel even across the seams.
White Marble and Indicus Black Bone Inlay Nesting Table
This white and black furniture duo provides a elegant contrast between both colour palette and texture. Our highly popular nesting tables comes in multiple material choices and designs, so you can reach out to us if you'd like a better nesting table combination made.
Duxton Black and White Floral Bone Inlay TV Console
Our take of the most popular bone inlay pattern in the industry. Each leaf piece is intricately carved by hand by our master craftsmen, and a piece like this can several months to complete. Both the background resin color and bone material can be customised.
Terrazo Marble and Brass Console Table
While our store features many Marble and Quartz designed tables, this speckled Terrazo marble is a specially requested material not found in our usual collection. The Antique Brass finishing gives sophistication to this fun and playful marble choice.
Peranakan Black and White Bone Inlay Floor Mirror
A black and white take on one of our timeless bone inlay pieces. The Peranakan Floor Mirror features nature motifs from traditional Peranakan handicraft in South East Asia. A thoughtful combination of heritage and elegance befitting those with more matured tastes.
Geometric White and Black Bone Inlay Sideboard
Inspired by our geometric bone inlay designs, a customer came in requesting a snazzy custom bone inlay pattern. Both the design and the dimensions for this furniture piece were also modified from the original sideboard design to fit this user's living room interior design.
Stellar Grey Agate Brass Console Table
A wonderful semi-precious material that is finished by hand with golden brass metal. This white and black furniture piece is a true piece of luxury in every aspect of its design. The agate is sustainably sourced in India, and comes in multiple vibrant colours.
Adam Park White and Black Bone Inlay Bedside Table
Bone Inlay is often thought to be an rustic, antique design. But pieces like this prove that traditional techniques can still be used to create fresh modern looks for your home. Chevron is a popular bone inlay pattern choice amongst our Study furniture offerings.
Nymeria White and Black Bone Inlay Side Table
Bone inlay pieces are often designed as large tables or drawers. This white and black furniture piece takes a traditional design and elevates it to a sleek addition to your living room or bedroom. Finished with matte black metal, this is a good piece for people who prefer simplicity in their furniture designs.
→ Buy the Original Coffee Table
Long Maharajah White Marble Black Leather Sideboard
A clean design of solid black and whites, asides from the clover shaped handles. One of our sideboard designs that features a full leather body finish. This piece also comes in a taller version, and can be customised with multiple colours an semi-precious stones
Final thoughts
White and black furniture pieces are popular because of their ability to provide variety, yet compliment the designs of many home spaces. A good furniture piece is one of which design and build holds up over time, and evolves as your home does. We hope this collection inspires you to go bold with your furniture ideas, and that even monochrome furniture can bring life to your living spaces.